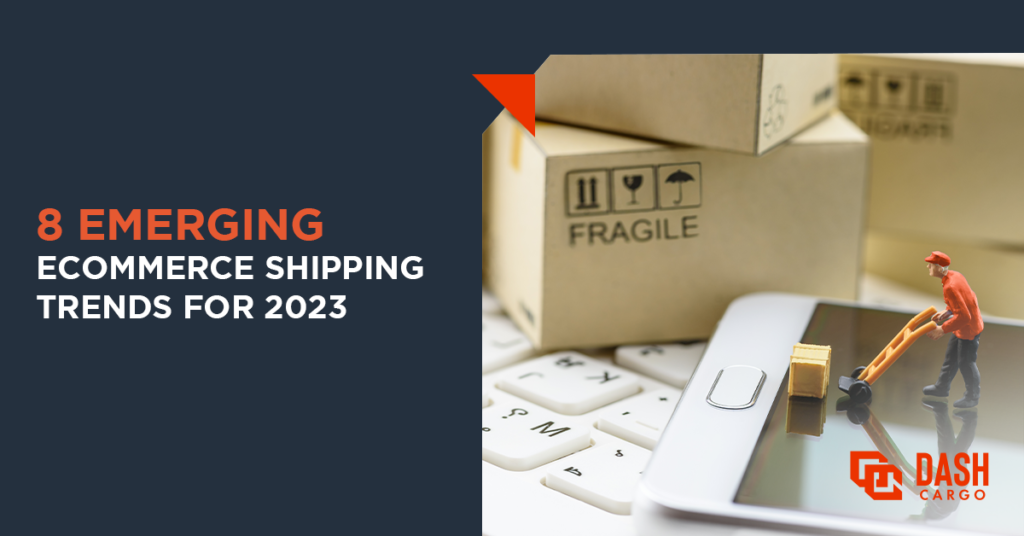 The eCommerce industry continues to grow at an exponential rate. Online channels and digital marketplaces have presented numerous opportunities for entrepreneurs, and recent studies show that eCommerce sales worldwide will reach $6.3 trillion by the end of 2023.
As more businesses start shifting online, it's expected that the demand for reliable shipping will increase as well.
If you're planning to start selling online, understanding how the shipping process works and being aware of eCommerce trends will be key to your success. To help you on your new venture as an eCommerce brand, this article will discuss eCommerce shipping trends for 2023.
Emerging eCommerce Shipping Trends for 2023 and Beyond
1. Global supply chains will continue amid the Ukraine conflict and COVID-19 recovery
Two years ago, the war in Ukraine and the COVID-19 pandemic heavily impacted the flow of goods. Sudden changes in trade routes and travel restrictions imposed by governments have required importers and exporters to reassess operations and partnerships.
Despite these issues, freight forwarders are expected to continue operations under these circumstances. Establishing new routes and working with different partners are likely in the coming months. On top of this, there are price hikes that every business owner needs to consider.
2. Mainstream integration of AI and automation tools
Artificial Intelligence (AI) monitors the shipment of goods and even predicts when shipments will likely arrive based on historical data. If a shipment is delayed, it notifies the company immediately to adjust plans.
Another way AI improves inventory management is by using algorithms to automate tasks like reordering inventory and labeling items. This process allows companies to make decisions without relying on human employees, reducing costs and increasing efficiency.
3. Improved delivery times and transparency with customers
In this day and age, customer experience is vital to business success. Customers expect constant status updates regarding their orders and are often concerned about delays affecting the time they receive their parcels.
Companies must find ways to improve delivery times and proactively communicate with their customers throughout the entire shipping process.
Today, many businesses alleviate these concerns by providing customers with updates about the status of their orders. Real-time updates allow open customer-company communication, supposing there's an issue with the delivery at any point in the process.
4. Extra emphasis on sustainability
Sustainability has become a hot topic amongst consumers in light of environmental threats such as climate change. Customers nowadays prefer businesses and service providers who actively practice eco-friendliness and emphasize sustainability in their processes.
Because of this, the eCommerce industry has adapted by offering sustainable delivery options in its packaging.
In addition to the reputational and cost advantages of sustainable packaging, eCommerce brands have also taken steps towards sustainability by optimizing their returns processes and opting for sea freight shipping when delivering in bulk.
5. Branded shipping
Unboxing is a rising trend in eCommerce because numerous people shop online and post their purchases on social media. Brands have designed packages to be unique for each customer, including short letters of appreciation, stickers, and even freebies.
The more you connect with your customers, the more likely they'll do business with you again because they feel cared for, which leads to more sales. Not doing so is a mistake in the long run because it's an opportunity to widen your audience and get more recognition.
6. Hyperlocal deliveries
Businesses are starting to embrace the idea of using hyperlocal deliveries because this trend offers many benefits, including decreased costs, faster delivery times, and greater customer satisfaction.
With hyperlocal deliveries, offline shops deliver products to customers faster than traditional means. Businesses have land freight shipping that accommodates all customers, increasing efficiency.
This online business model allows companies to meet customers' demands for almost any good or service. These range from groceries and laundry to medical supplies.
7. Just-in-case inventory management
Just-in-case inventory management (JIC) is a popular practice in eCommerce because it allows businesses to address issues associated with customer satisfaction, such as out-of-stock items or missing orders. The strategy involves keeping many products on hand since companies can have difficulty predicting consumer demand.
In addition, JIC management is common in less industrialized countries with poor transportation infrastructure and quality control, as the unstable supply chain leads to production problems, resulting in more costs.
8. Load balancing
Load balancing has become an increasingly popular fulfillment method since it focuses on distributing incoming inventory across distribution centers rather than just one warehouse.
This method significantly impacts businesses by reducing transit time, decreasing supply chain volatility, and decreasing carbon footprint. It follows the concept of "not putting all your eggs in one basket." Having multiple warehouses that accommodate your customers makes operations smoother and more effective.
Constant, Consistent Changes
The eCommerce and shipping industry is continuously evolving. Sustainability and a stronger emphasis on delivery times have become essential for businesses to successfully satisfy their customers.
Adapting to eCommerce trends isn't just about customer satisfaction. It also involves making business operations more effective and processes more efficient for everyone involved.
If you're looking for a reliable freight forwarding company to partner with in the Philippines, Dash Cargo is here to help you with all your needs. Keeping up with what's new will allow you to know the best logistics options and what will work best for your business. Visit our website today to learn more!