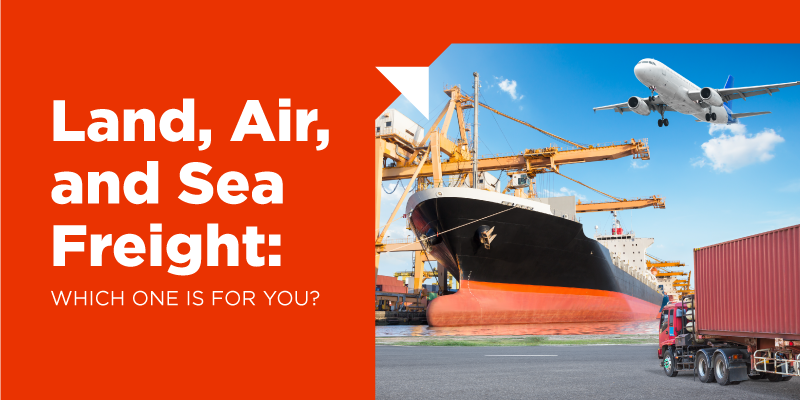 The world has benefitted from shipping in one way or another, even if not everyone realizes it. From groceries and mobile phones to new releases of your favorite shoe brand, freight forwarding has always been used for the movement of products.
Due to the rise of ecommerce, customers' purchasing power and demands have significantly evolved. This development has led to a significant increase in global trade that requires business owners to be more creative in delivering their products. Fortunately, they now have different freight forwarding options at their disposal.
Thanks to developments in transportation, land, air, and sea freight solutions are now easily accessible. Our guide below will give you a brief rundown of these three freight services to help you decide which forwarding option is best for you.

Land, Air, and Sea Freight: Which One is For You?
This type of freight forwarding is the most preferred and used. Land freight enables the transportation of products by utilizing ground infrastructures like roads through trucks, trains, motorcycles, and cars. This type is the most popular option for short-distance forwarding due to its flexibility in pickup and delivery.
Pros
1. Land freight reaches points that are far from shipping ports
Since there are more options with the type of vehicle to use, items shipped via land can reach locations that are far from aircraft terminals and sea ports.
2. Technology allows your goods to be easily tracked and monitored
Technological advancements enable business owners and customers to monitor their shipments and deliveries through codes and reference numbers. This way, you won't have to worry about losing your goods.
3. Land freight can transport various goods and can be combined with other means of transportation
Goods transported via land are easier to handle and monitor. Land freight provides for the safe transportation of all goods, including hazardous, liquid, and perishable items. It can also be integrated with other modes of transportation to complete the logistical process fully.
Cons
1. It covers less distance than air and sea freights
It covers less distance than the other two types. Land transport must also cross borders which typically requires paperwork. This results in delays, damage or loss of goods, and other related problems.
2. Traffic can delay the delivery time of your goods
In 2021, there were 4,951,662 units of vehicles registered in the Philippines, with the number continuously increasing yearly. With traffic as bad as Manila's, you can expect delays in delivering your goods.
3. Capacity is more limited compared to other transports
Roads are not as wide as the sky or the sea, making land freight's capacity the smallest of the three. The modes of transportation aren't as vast as ships or planes either, so only small quantities of goods can be delivered.
Best For
Land freight is best used by businesses looking for a cost-effective shipment option. This type of freight works with smaller quantities of goods, so the cost is not as high as sea or air freight.
Air freight shipments are cargo transferred via an aircraft. These air carriers may be commercial or charter. The shipments travel much like other flights, from passenger and commercial aviation gateways to anywhere air carriers can fly and land.
Pros
1. Airlines offer air freight services to almost every point on Earth
Air service can reach even the most remote regions and nearly every point on the Earth, thanks to its extensive operating footprint.
2. The intense surveillance and security at terminals and reception areas reduce the risk of theft or damage
Air freight carriers benefit from tight restrictions and screenings. The intense surveillance and security at air terminals and cargo reception areas reduce the risk of theft or damage.
3. Air cargo transportation can be as quick as same-day delivery
The speed of air cargo transportation is the main benefit for shippers. Some even offer same-day deliveries. The fastest delivery times, as well as accurate estimated arrival and departure times, are provided by this mode of transportation.
Cons
1. Go-signals are dependent on the weather
Although weather impacts all modes of transportation, air freight is significantly affected. A few days of delay can be a problem if the delivery date is tight or perishable goods are on-board.
2. Planes cannot carry as much weight as sea cargo
The size and weight limitations are the next drawbacks of air freight transportation. Planes cannot carry as much weight as ships can since they are smaller and less robust. Therefore, some items can't be shipped by air.
3. Quick but costly
You would have to pay a lot for the quick shipping time. Even if the delivery distance is the same, air freight travel is more expensive than the other modes of transportation. Air freight enterprises use weight calculations, while land and sea utilize volume calculations.
Best For
Air freight is best used for perishable goods that cannot stay in transit for more than a day or two and fragile shipments. Compared to shipping by trucks or cargo ships, items sent by air may be more protected against unintentional damage.
Businesses employ sea freight as a shipping method to move massive quantities of cargo aboard. When moving heavy gear or a large number of goods, most enterprises choose this mode because it is cost-effective.
Sea freight is subject to fewer limitations than other forms of freight. Sellers, buyers, ocean carriers, freight forwarders, brokers, port authorities, and insurance companies are all involved in sea freight.
Pros
1. The most economical shipment solution
Shippers can find the most affordable freight rates in the ocean shipping sector, especially for long distances. According to some estimates, ocean freight shipment costs are often four to six times less than that of air.
2. Can accommodate big and heavy cargo
The ability of shipping firms to carry big, heavy, or bulky cargo is a significant benefit of sea freight shipping. Large cars, machinery, supplies for building, and other items are examples of such cargo. Loads too heavy or large for air freight or on-the-road transportation are rarely an issue aboard many commercial sea vessels.
3. Ships have the least amount of exhaust gas emissions, making them the most environmentally friendly
Modern shippers are giving their environmental impact more consideration. Multinational corporations favor using ocean freight as their primary means of transportation to minimize their carbon footprint.
Cons
1. Cargo takes too long to deliver compared to other freight services
The biggest disadvantage of sea freight is that delivery takes longer compared to other freight services. You can expect it to take days to arrive.
2. Packages may be lost or damaged due to weather-related issues
The dangers of ocean shipping are greater since it takes so long to deliver and get a package. The package may be damaged or lost due to weather-related obstacles.
3. Some regions of the world may lack the ports and terminals needed to accept large shipping vessels
It's possible that some regions of the world lack ports and terminals, making it impossible for them to accept huge ships carrying containers. Dealing with container-based networks typically requires a substantial capital investment.
Best For
Sea freight is best utilized for shipments that must be handled with the best care. While it is the slowest, it is also the steadiest and most cost-effective option. Furthermore, since sea shipping usually travels by containers, it's also best for businesses that send out and receive large quantities of items.
Notable Factors to Consider When Shipping
1. Budget and price flexibility
The price at which you sell the goods increases due to transportation costs; thus, you must consider your budget. Identify which shipping option offers the best value depending on the size or weight of the cargo. The types of goods and how quickly they need to be delivered impact the price and mode of transportation.
2. Speed of delivery
Air transport is ideal for long distances requiring urgent and quick delivery. Land transportation works well to deliver goods to more remote locations, whereas sea freight is best for companies requiring a large shipment to carry their burden.
3. Types of goods
The kind of commodities your freight forwarder has experience with should also be considered. If they have experience in the type of goods you carry, they can suggest the best carrier and packaging service and finish the paperwork swiftly and easily.
4. Volume and capacity
Do not forget to look at the company's monthly shipment volume. This can help you determine whether the company can handle your cargo requirements or not, especially in terms of volume and capacity. You may export your goods safely and on time if the freight forwarding company has already shipped items to the same destination.
5. Industry expertise
The laws and rules governing shipping can be a real challenge. Fortunately, a reliable and knowledgeable freight forwarder can advise you on this because knowing and supplying the necessary information naturally comes to them.
Your chosen freight forwarder should assist you with finding the appropriate carrier, providing guidance on commodity codes, and verifying all necessary paperwork.
Cater to the World
Choosing a company with the right freight forwarding services can be difficult because of the different considerations. From weight to urgency and location, all these play a critical role in choosing land, air, or sea freight solutions. The best way to pick a carrier that will fit your needs is if you circle back to the pros and cons of all types and see which factors matter to you the most.
For companies that require a freight forwarder in the Philippines, Dash Cargo offers superb customer service and a proven track record of 20+ years in the industry that will guarantee the delivery of goods anywhere and on time! Contact us today!