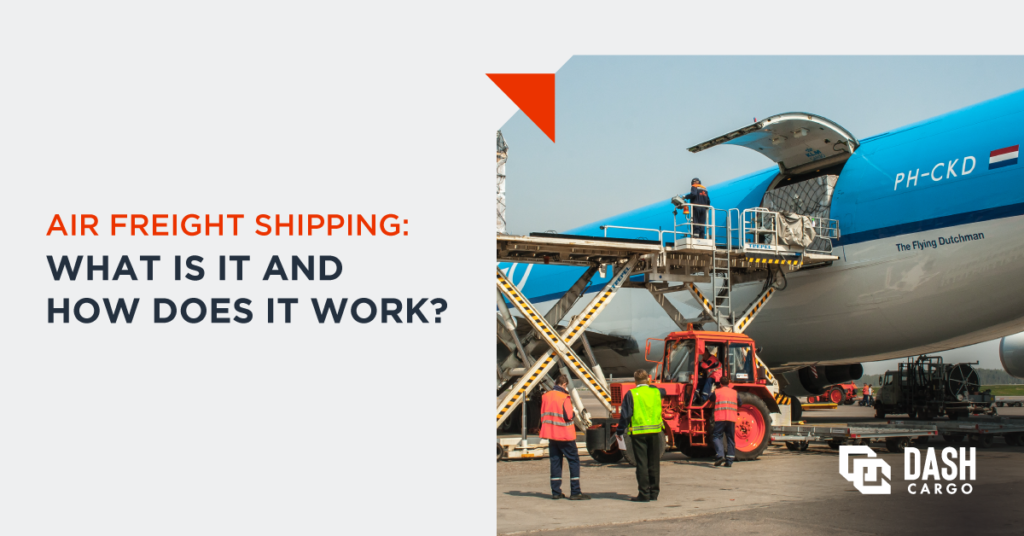 Tapping into the international market is a significant milestone for your business. As you pursue partnerships in other countries, you have no shortage of opportunities to progress your brand's reach and profits. Hence, international shipping will be an essential component of your success.
If you're planning to export your products, an essential factor to consider is your transportation options. What you choose determines your expenses and profits from transport, so it's critical to consider.
If speed is a vital concern in your operations, look no further than air freight shipping. This article will discuss air freight shipping, frequently asked questions, and other matters that give you a fundamental understanding of how it works.
What is Air Freight Shipping? How Does It Work?
Air freight shipping is a transport method that mainly uses planes to ship anything from packages to cars and animals such as horses—you read that right.
In contrast to land or sea freight, cargo transported by air arrives the quickest at its destination, which is beneficial for long-haul exports with tight shipping schedules. Hence, many B2C e-commerce brands like Amazon prefer distributing goods by air.
Now, you might ask, "How does air freight work?" If so, here's a quick rundown of the step-by-step process of exporting goods by air to help you understand better.
1. Finalize negotiations and place orders
The first step is to contact your suppliers and negotiate your air shipping options. Your discussions may focus on incoterms, documents, costs, and inventories, among many others. Creating a systemic plan for transport minimizes any hitches you might encounter during operations. Once you've agreed, it's time to place an export order.
2. Manage expenses
Since air freight international shipping is faster than other transport modes, it's also usually the more costly option. Some cost factors that impact your operations include:
o Customs clearance
o Airport security
o Subsequent transport
o Airport security
These fees often fluctuate, and some expenses might not apply to your cargo. So, stay updated on possible costs before placing any freight order to avoid unexpected payments.
3. Pack up and load cargo
Aircraft generally have limitations on shipment specifications, including size, weight, container type, and whether it submits to security checks like x-ray scans. Hence, contact your freight forwarder about the plane's restrictions to prevent cancellations.
4. Pick the appropriate route and delivery option
Shipping companies often provide delivery options that vary in pricing, distance, and speed. Ask your forwarder about these factors to help pick the shipping option that meets your resource restrictions and allowances. Usually, the fastest options are the most expensive.
5. Provide documents
Since forwarders are responsible for taking your cargo through customs authorities, it's crucial to give them copies of important documents that can make the transport process easier. These papers may include the following:
o Invoices
o Certificate of origin
o Arrival notice
o Letter of instruction
o Forms declaring dangerous goods
6. Manage the goods upon arrival
Air freight isn't the only transport you should be concerned about. Once the destination's customs authority clears your shipment, you still need to deliver the goods to their last stop (i.e., importer) through trucks, trains, ships, or a combination of these. Again, your forwarders can handle this operation, so keep them in touch.
FAQs about Air Freight
1. How much does air freight cost?
Air freight costs generally range from ₱140 to ₱280 per kilogram, but it changes depending on the type of cargo and the space it consumes. It's best to ask for quotes from different transport services to determine which option fits your budget.
2. What are the main advantages of air freight?
Air freight is better than other options in terms of speed. Aircraft delivers shipments within a couple of days, if not on the same day, which is useful for transactions with tight schedules.
3. What are the disadvantages of air freight?
Air freight is the most expensive shipping mode thanks to the significant weight and size limitations and the amount of fuel needed for the trip. There are also restrictions on what goods you can transport, which limits specific industries from using air shipping.
4. What's not allowed in air freight?
Prohibited air cargos vary depending on the countries, shipping companies, and air transport authorities involved, but they usually include the following:
o Explosives
o Gases
o Toxic substances
o Flammable materials
o Radioactive substances
If they're not prohibited, the concerned authorities heavily regulate and monitor these shipments.
5. How is air freight cost calculated?
Estimate your air freight costs by multiplying the shipping company's rate per weight by the chargeable weight. As a rule of thumb, the larger or heavier your cargo is, the more expensive you can expect it to be.
6. What is the weight limit for air freight?
Weight limits depend on the type of aircraft you'll be using. For instance, a Boeing 737-400 carries a max cargo weight of 2,897 kg. Refer to your freight forwarder for your shipment's weight allowance.
7. What are the three types of air freight?
Expedited service: Shipments arrive as quickly as possible without any stops, often used for perishable goods.
Standard service: While not as quick as expedited shipping, cargo is still delivered quickly, albeit with some stops.
Deferred service: This is the slowest but cheapest option. Businesses use this service for cargo that has lenient schedules.
Choose Airfreight for International Shipping
In today's fast-paced world, buyers often want products to arrive at a snap, which is usually a challenging demand. Maritime shipping takes up to a month to arrive, while land transport takes longer. Fortunately, air freight shipping allows brands to provide their goods almost instantaneously anywhere around the globe.
Look no further than Dash Cargo if your company needs tried-and-tested shipping solutions. As the top provider of air freight services in the Philippines, we're ready to take your goods anywhere you need, effectively and efficiently.
Interested? Contact us today to learn more!