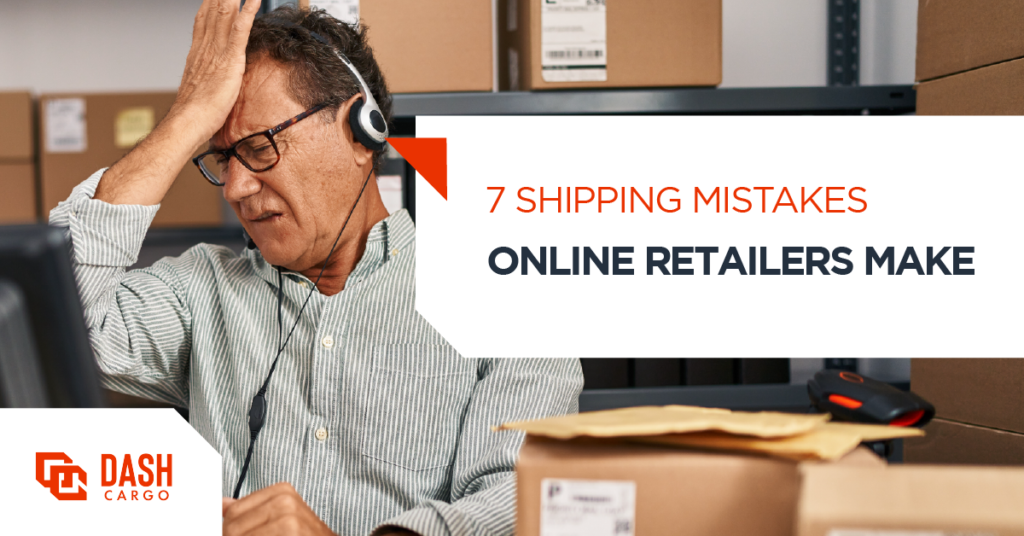 Despite many trials, the COVID-19 pandemic paved the way for plenty of growth and opportunities. Due to the world's increased reliance on the web, the sudden boom in eCommerce has been one of the biggest developments brought by the health crisis.
According to the United Nations Conference on Trade and Development (UNCTAD) research, online retail sales rose from 16% to 19% in 2020 due to the remarkable surge in eCommerce amid movement limitations. This surge in numbers is both from a shift in global consumption patterns and an increase in entrepreneurial efforts by individuals and groups alike.
While eCommerce has boomed exponentially, it's not always smooth sailing for entrepreneurs. There are many complexities in running a business (especially online), and one common problem amongst eCommerce brands would be shipping. To minimize errors and improve your bottom line, the guide below will list common shipping errors and how you can prevent them.
Shipping for eCommerce: 7 Common Shipping Mistakes Made by Online Retailers
1. Lack of automation
It takes a lot of time and effort to ship online store items manually. Additionally, manual planning entails much effort to process a shipping method for each cargo without shipping labels or automated systems, making it prone to human error.
Automation can simplify the job as packing, checking, and sorting orders involve numerous touch points. For instance, you can immediately fill out shipping labels with the customer information provided and make delivery tracking simple to accomplish once the product has been shipped.
2. Not shipping through a good carrier
Many carriers only serve eCommerce stores, but making the appropriate choice is crucial as an owner. When choosing your carrier, you should consider factors such as the operation's overall coverage, fair pricing, delivery pledges made on time, and ethical standards.
3. Poor product packaging
Companies frequently use improperly sized boxes and poor-quality packaging, which results in a box opening during delivery. This error causes clients to start the return process, which may be very inconvenient for customers and expensive for businesses. Using adequate shipment packaging is essential since, despite being undervalued, this error can quickly result in significant losses.
When shipping for eCommerce, companies must use customized packaging to produce a thoughtful and distinctive appearance in addition to the appropriate size and sealing. Moreover, for customized packaging, you can add a sticker, tape, or piece of paper with your brand's logo or color.
4. Wrong delivery addresses
Incorrect or invalid shipping addresses could destroy your company's reputation and customer experience. It may cause a delivery delay, incurring loss or return expenses. The delivery process gets complicated when a package has an invalid address since it'll force the parcel to be returned to the loading dock and looked into.
The absence of valid shipping addresses frequently results from inaccurate information or eCommerce mistakes. For instance, missing apartment or road numbers can cause shipping address issues. Therefore, ensuring the delivery address is accurate would undoubtedly improve the end user's experience while saving you money and effort.
5. Damaged parcels
One of the worst-case scenarios that can occur during delivery is a damaged product. Even if the item ordered was damaged during shipping, in the eyes of your buyer, it was your shop that didn't take sufficient care of it. As a result, your store's reputation will suffer, and you'll incur additional expenditures to have the order returned.
To avoid shipping mishaps and keep parcels safe, pick appropriate materials and utilize protective packaging.
6. Wrong tracking codes
The secret to happy customers is the tracking code. From the time they place their order and confirm their payment until the package is in their hands, they want to follow its progress. They won't be as satisfied with your service without their tracking code because they won't know what is happening with their shipment, how far along the order is in processing, and when they can expect the delivery.
7. No shipment options
Shipping for eCommerce is tricky. Offering a range of shipping alternatives to customers is one of the most crucial benefits of eCommerce and the biggest blunders online retailers make. Using the wrong platform can only frustrate you more since some of them provide the most basic options and don't allow for customization to tailor the delivery procedure to your client's demands.
Seamless Shipping for eCommerce Brands
The COVID-19 pandemic brought about new changes in retail, and the number of people taking advantage of this trend is increasing steadily. However, while eCommerce poses great benefits and innovation, it has its fair share of challenges. Fortunately, you don't need to worry about these problems since you can easily solve them with the help of a reliable freight forwarder
If you have a growing online business and are looking to partner with a proven international freight forwarder in the Philippines, Dash Cargo is the company for you. From our sea freight shipping solutions down to our customs clearance services, we'll make sure that all your logistical needs are met! Contact us today to ensure that your products arrive safely and on time.