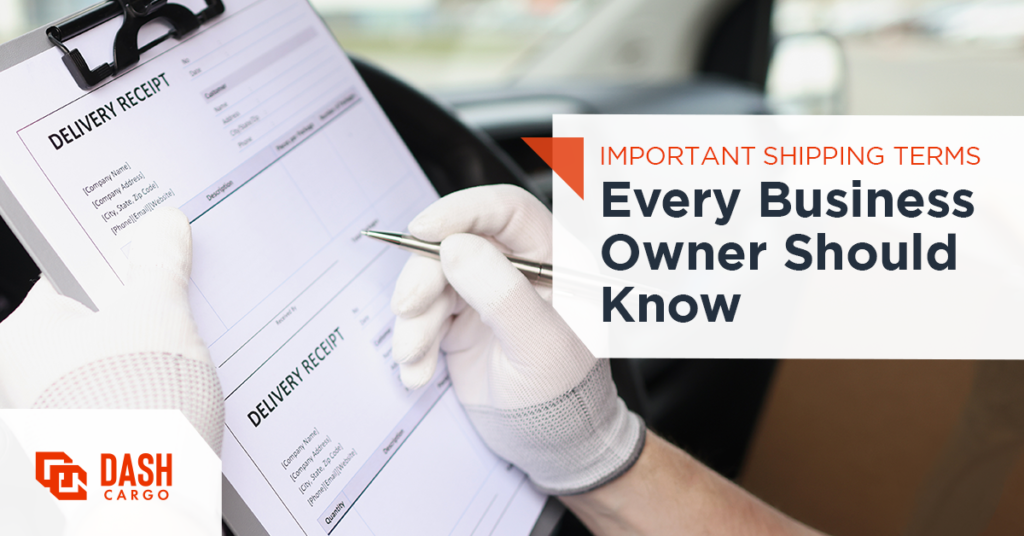 Running a business is not a walk in the park. It takes a lot of guts, planning, and most importantly, discipline to overcome the different challenges that come with the entrepreneurial life.
In the case of new and growing businesses, managing your daily operations, complying with government policies, and meeting client expectations are just some of the many hurdles you'll face as an entrepreneur. To adapt to their ever-competitive markets, all business owners will agree that growth is one of their top priorities. Apart from developing new and innovative products, expansion is another tell-tale sign of development.
Ultimately, being able to offer your goods and services to people from different areas is an achievement many businesses aspire to reach. If you're looking to import or export products for the first time, you must familiarize yourself with the essential shipping terms. To help you out, we've created a list to guide you with the must-know shipping terms of businesses.
15 Must-know Shipping Terms for Business Owners
Bill of Lading (BOL) / Air Waybill
This is a legal document from a carrier to a shipper specifying the details of the goods, including the item type, quantity, and destination. This serves as a shipment receipt when the carrier delivers the goods to a specified destination.
Carrier
A carrier is a legally contracted party transporting goods for another party—taking the items from the source (shippers) to another pre-determined place.
Certificate of Origin
A certificate of origin (COO) is a document that contains information regarding where the product is going and the country of export. An example of this is when you see an item marked with "Made in the USA" or "Made in China." The COO is an important form required by many treaty agreements for cross-border trading because it determines whether certain goods are eligible for import or are subject to duties.
Consul
A consul is a government official residing in a foreign country who represents the interests of their country and its nationals.
Compliance
In international shipping, compliance means that the company follows all applicable rules and regulations to govern its shipments.
Shipper
A shipper is identified as the party selling the goods to a foreign market. In other cases, they may be the caller exporters or consignors.
Distribution Center
This is a location for circulating certain goods into a country's commerce. A company specializing in distributing other companies' products is called a distributor.
Consignee
The consignee is the person or place where the shipment will be given or transferred. The intermediate consignee takes possession of the goods in transit, but the final consignee is the final recipient of the goods.
Customs Broker
A customs broker is an individual or organization that helps the shipper fulfill customer requirements by arranging everything for them.
Customs Clearance
This is a process wherein a customs authority assesses the shipment to be imported into their country to ensure the compliance of said cargo with their country's import regulations. When the customs authority has approved the shipment, the cargo receives its customs clearance.
Entry
In importing, entry is an official statement made to Customs regarding details of a cargo entering the country. Usually, a customs broker acts on behalf of the importer.
Dropshipping
This is a form of retail business where the seller takes the customers' orders. However, it passes the order to the manufacturer or supplier with the item/s, such as a wholesaler or another retailer, and ships the order directly to the customer.
Incoterms (CIF, FOB, & EXW)
Incoterms or International Commercial Terms are standardized international trade terms published by the International Chamber of Commerce. These terms help determine the obligations of buyers and sellers to prevent confusion.
Cost, insurance, and freight (CIF)
The terms of CIF specifies the shipper must arrange and pay for the carriage of the goods to a port of departure. Shippers must also provide the buyer with the documents needed to obtain the goods from the carrier. Buyers take risks with a CIF sale because additional costs and insurance fall on their shoulders. The seller is not responsible for acquiring insurance against the risk of loss or damage to the cargo during transit.
This term is a designation used to indicate when responsibility and ownership are transferred from seller to buyer. This also determines who is responsible for the payments of freight charges—when the point for the transport costs for the shipped goods shifts to the buyer.
Ex-Works or EXW is an incoterm that describes when a seller makes a product available at a designated location. The buyer covers the transport costs of the cargo when it's delivered to a specific location.
Freight Forwarder
A freight forwarding service provider has a wide range of logistics services that allow the movement of certain cargo from its point of origin to its final destination through carriers via air, marine, rail, or highway transport.
HS Code
Harmonized System (HS) Codes are used in every part of the trading or exporting process. The HS code classifies traded products via a standardized numerical method. Customs authorities use it to identify goods when assessing duties and taxes.
Global Trade Made Easy
With the many challenges business owners face, it's important not to get disheartened and to stay focused on your goals. After all, running your own enterprise is a long-term game! As you find ways to improve your services, expanding your business through global trade will be a great way to foster your brand's growth.
Now that you're aware of the basic terms in shipping, venturing into global trade should be a lot easier. In case you're looking for a freight forwarder in the Philippines that will help you deal with the intricacies of shipping, partnering with Dash Cargo logistics will be your best bet!
With over 20 years of experience in different industries, we're confident that our solutions will be able to fulfill your unique needs. Whether your business is handling general merchandise, automobiles and heavy equipment, or raw materials, rest assured that we'll deliver your goods on time and safely. Visit our page to learn more about our services!