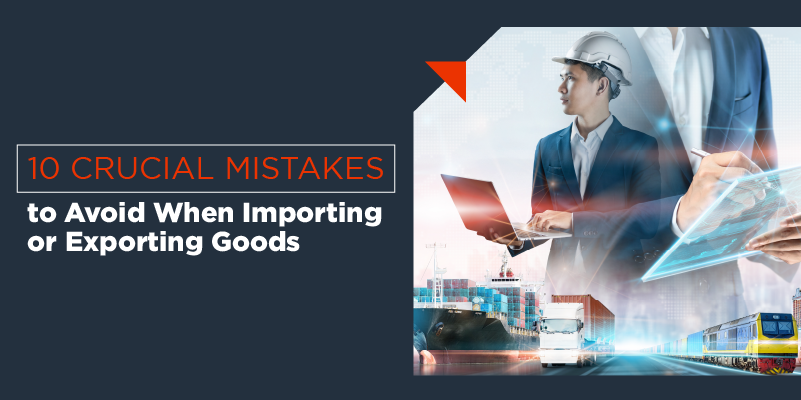 Importing and exporting allow businesses to venture into the international market. Sending and purchasing goods requires little to no investment in building a production unit in a foreign country, enabling enterprises to drive growth easily. However, companies must establish distribution channels to conduct transactions successfully.
Major and up-and-coming companies lean towards the importing and exporting industry because it can bring about exciting opportunities. By importing, they can introduce new products to foreign markets, reduce manufacturing costs, and become leaders in the industry. Meanwhile, exporting lets companies increase their sales potential and profits.
With the points above in mind, it's clear that businesses can achieve countless growth opportunities through exporting and importing goods. On the flip side, numerous common profit-eating errors linger within these business transactions. If you're planning to ship or receive products overseas for the first time, it's essential to know the common pitfalls.

10 Crucial Mistakes to Avoid When Exporting or Importing Goods
The import and export industry offers high profits to businesses, making it one of the most thriving and lucrative industries. With less cost in investment, exporting and importing goods is the easiest way to participate in global trade and access new markets.
Although exporting and importing benefit businesses through expansion and higher returns, overlooking small mistakes is prohibited in this industry. These tiny errors can compound over time, leading to significant losses in profit.
1. Lacking knowledge of import and export regulations
Blindly diving into the import and export industry is a huge red flag. A common belief among small or medium enterprises is that they can easily supply products in foreign markets, neglecting the possibility of getting pinned down by losses.
Because of the growing international trade, authorities enforce new programs to ensure the cargo's security. The lack of knowledge of import and export regulations can deal a huge financial blow to companies.
Various procedures implemented by the Bureau of Customs, the trading regulations in your chosen partner's country, and international laws regarding packaging and marking may influence your import and export endeavors.
As someone wanting to participate in the import and export industry, learning and following these laws and regulations are crucial to your business' success. Failure to do so can lead to penalties and sanctions.
2. Under or overvaluing products
The importers are responsible for accurately reporting the right value of imported goods to the customs authority. Since most import tariffs, the tax charged by the customs authority, are based on the assessed value of the items, the reported value directly affects the amount that needs to be paid to the customs authority.
By undervaluing or overvaluing imported products, importers knowingly try to avoid the applicable duties and taxes owed. Expect customs processing delays and significant fines and penalties for this practice.
3. Not localizing the product
Failing to localize the exported products may create sales and marketing issues, leading to the selection the wrong distribution channels. Exporters need to localize their products so foreign customers may accept and receive them. Before launching the goods, looking into the local market is vital to know the customers' preferences. In doing so, you can market the goods in a way that suits the local's audience.
Building sales and marketing techniques based on your target market will help connect with the buyers, creating a solid foundation for the business.
4. Making errors in documentation
Errors in shipping documents can cause a ton of inconvenience and greatly affect your overall revenue. Some common mistakes in the documentation are the expiration of the letter of credit, the description of goods or spelling being different from the letter of credit, and many more. Ensure you double-check each document for easy and smooth transactions and to avoid delays.
5. Not staying up to date with exchange rates
Staying up to date with exchange rates is vital in the import and export industry. A price you've agreed with a customer or supplier before could increase or decrease once exchange rates change. The decision will be based on several factors, like your agreement with partners or how prices fare amongst your competitors.
For example, suppose you import goods in a foreign currency, and they're part of a commodity sold in sterling. In that case, you'll need to decide how to price them to reflect the exchange rate.
6. Being unfamiliar with Incoterms
The International Commercial Contracts or Incoterms are rules and definitions of interpretation for most commercial goods. The terms are used globally to sell goods in international and domestic agreements. They're developed and maintained by professionals and practitioners brought by the International Chamber of Commerce (ICC) that become the standard in international business rules setting.
The appropriate Incoterms should be assigned to your products to ensure proper commercial definitions for your imports. Being unfamiliar with Incoterms means you're at risk of getting underpaid or overpaid for an export sale leading to legal problems with customs. Moreover, make it a point to read up on must-know shipping terms before you begin your transactions!
7. Lacking commercial invoices
The U.S. Customs and Border Protection (CBP) uses commercial invoices to regulate goods' classification, validity, and valuation. Commercial invoices and billing documents must contain complete and thorough information so goods will have seals of approval and be considered valid. It's up to the importer to make sure that invoices arranged by vendors are amenable.
Ensure that you have the names of the buyer and seller, shippers and receivers, quantities of foods in weights and measures, and the type of currency. You should also include drawbacks, rebates, and bounties and provide a commercial invoice in English.
8. Not verifying the legitimacy of the buyer or seller
A good reputation says a lot about a business partner. Verifying the buyer's or seller's legitimacy is crucial in building a new and foreign market base. Due to the excitement of going international, exporters often overlook conducting basic background checks of their foreign business partners. Such negligence can lead to market, financial, and reputation loss.
Exporters must conduct a background check or hire an agency to avoid entering a business contract with a dishonorable company.
9. Failing to choose an effective team
Handling operations by yourself is a mistake. Make a team that will help with your import and export transactions. Carelessly choosing the people for this job shouldn't be an option, as they can greatly affect the efficiency of your operations.
Doing business globally requires a significant amount of trust. Failure to build an effective team can jeopardize your transactions and operations, leaving you and your business disadvantaged. Protect your competitive edge in foreign markets by finding the right professionals to consult and a proven freight forwarding company.
10. Not insuring goods
If you're exporting and importing goods, ensure that you insure them to avoid the risks of loss, damage, and more. The importer or exporter bears the responsibility of insuring goods. Failing to do so can cause companies to compromise the supposed profit they could achieve.
International Shipping Done the Right Way
For various companies, exporting and importing goods present an excellent opportunity for their growth and expansion. Before getting ahead of the excitement in entering international trade, companies need to understand the foreign market, create an effective team, and avoid the mistakes above.
Cut down the risk of failure by allowing Dash Cargo to handle your logistics needs! As you export or import products, our customs clearance services will ensure that your goods arrive safely and on time. Contact us today to learn more!